You can find the form to subscribe to our newsletters below the previous editions, do not forget to join our community of readers!
——————————————
BECoop Newsletter #5 - February 2023
A special issue focusing on BECoop's call for follower cases, the material developed to raise awareness about bioenergy communities, and the upcoming series of webinars organised on all BECoop key topics.
The BECoop project is here to provide comprehensive support to 8 energy community initiatives throughout Europe during their initial stages, and offer an extensive introduction on how to apply the BECoop methodologies, tools and services (technical, business) and the replication guide of the project. BECoop partners will guide the awarded projects to implement the BECoop Replication Guide so as to support them in the first steps of developing a community bioenergy heating project and help them design a respective roadmap. 8 projects will be supported by BECoop (now selected).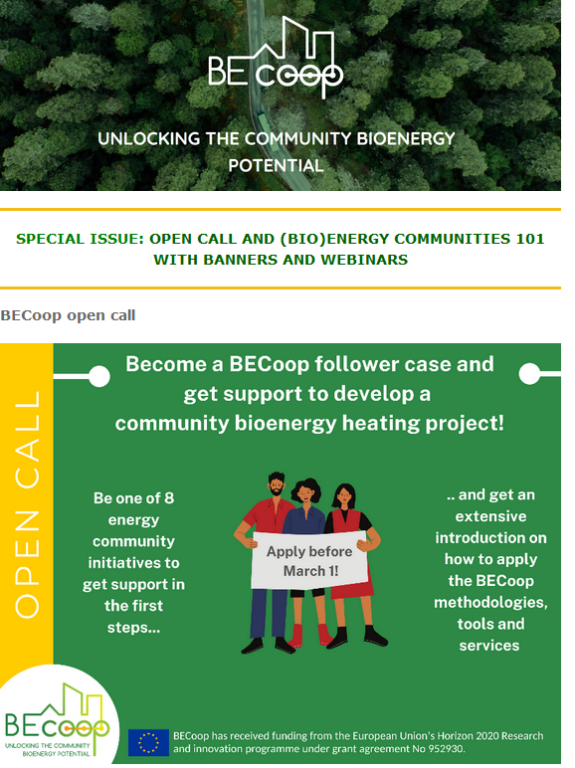 BECoop Newsletter #4 - January 2023
November 2022, BECoop partners met in Italy (Tirano, one of the project pilot areas), for a meeting organised by fiper, topped with a visit of the new biomass community and Valtellina district heating plant (TCVVV) to show partners how it works, where the sustainable biomass comes from, how it delivers energy to the mountain valley and much more. We heard from 3 mayors and a forest manager who explained the bioenergy impact on the local communities and on the forest management, a virtuous circle to prevent climatic disasters impacts. A short video takes you with us on that journey! 
As you know now, BECoop promotes a responsible, local, small-scale and sustainable use of biomass resources. We were happy to read the IPCC report released before the summer 2022, highlighting the bioenergy potential as important tool to achieve climate change mitigation if done in small-scales, sustainably and well planned. "The European Union could "triple" the amount of biomass produced on a sustainable basis over the coming decades while helping restore land degraded by industrial pollution, poor agriculture, erosion and climate change", says André Faaij in an article for EURACTIV. Later that summer, German MEP Markus Pieper posted on Twitter that the "expansion of the renewable energy target to 45% by 2030 was possible with innovation quotas, more cross-border projects, biomass and diversified imports".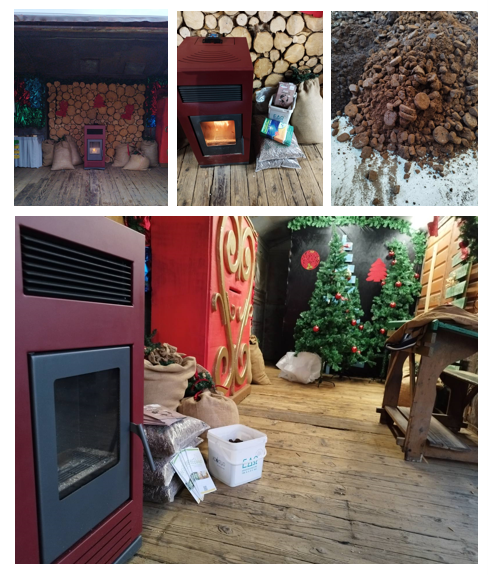 BECoop Newsletter #3 - March 2022
Earlier studies realised by BECoop showed that the knowledge and acceptance of bioenergy varies from region to region in Europe, making it an untapped source of renewable energy compared to other sources such as solar or wind. To ensure bioenergy's market expansion –with high potential for replacing fossil fuelled heat and therefore very important in the current geopolitical situation-, solutions, data and tools are needed to support market players.
BECoop participates in such an effort in many ways, one being to provide stakeholders with the right tools to kick start – or operate their projects, as you will find out in this issue of our newsletter. We have developed catalogues and factsheets, presenting technical and financial aspects, two tools were added to our portfolio of supporting outcomes, and a short video was prepared to show, in 2 minutes, what bioenergy and energy communities are, the benefits they bring to many stakeholders and how their combination is the perfect fit.
Boletín informativo en español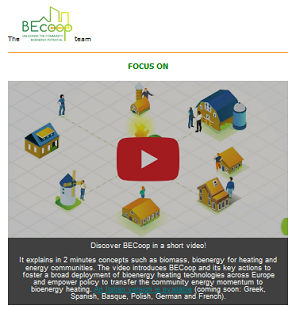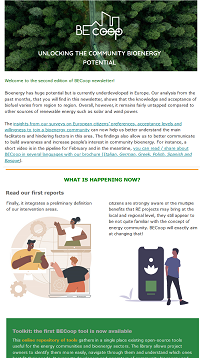 BECoop Newsletter #1 - April 2021
BECoop – News #1 – Unlocking the community bioenergy potential
Read about bioenergy potential, our pilot solutions in Italy, Spain, Greece, Poland, the tools that we offer for #cooperatives, and much more.
Please click here for the first newsletter of the H2020-funded project BECoop.