You can find the form to subscribe to our newsletters below the previous editions, do not forget to join our community of readers!
——————————————
BECoop Newsletter #3 - March 2022
Earlier studies realised by BECoop showed that the knowledge and acceptance of bioenergy varies from region to region in Europe, making it an untapped source of renewable energy compared to other sources such as solar or wind. To ensure bioenergy's market expansion –with high potential for replacing fossil fuelled heat and therefore very important in the current geopolitical situation-, solutions, data and tools are needed to support market players.
BECoop participates in such an effort in many ways, one being to provide stakeholders with the right tools to kick start – or operate their projects, as you will find out in this issue of our newsletter. We have developed catalogues and factsheets, presenting technical and financial aspects, two tools were added to our portfolio of supporting outcomes, and a short video was prepared to show, in 2 minutes, what bioenergy and energy communities are, the benefits they bring to many stakeholders and how their combination is the perfect fit.
Boletín informativo en español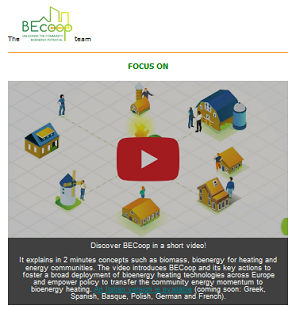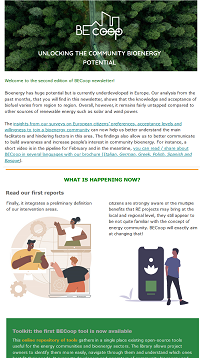 BECoop Newsletter #1 - April 2021
BECoop – News #1 – Unlocking the community bioenergy potential
Read about bioenergy potential, our pilot solutions in Italy, Spain, Greece, Poland, the tools that we offer for #cooperatives, and much more.
Please click here for the first newsletter of the H2020-funded project BECoop.