General and regional characteristics
FIPER is a national association representing most renewable energy producers for electricity and heat in Italy. Located in the Lombardy Region (Alps), our case is in the Valtellina district and Municipality of Tirano. The Po Valley is the worst in Europe for what comes to air quality…A bioenergy community in Tirano can support local development and attract new investments and innovation, according to a model of environmental sustainability and progressive independence from fossil fuels. A renewable energy community represents a suitable option for the long-term energy sustainability goals of the region, replacing obsolete biomass plants by biomass DH.
Current heating / renewable energy situation
The biomass district heating in Tirano satisfies about 80% (58 MW installed) of the thermal energy demand and 1.1 MW of electricity. Tirano has already been 100% renewable for years! It is also the starting point for the creation of a renewable energy community in Tirano, as a collective self-consumption system, avoiding the electricity grid losses.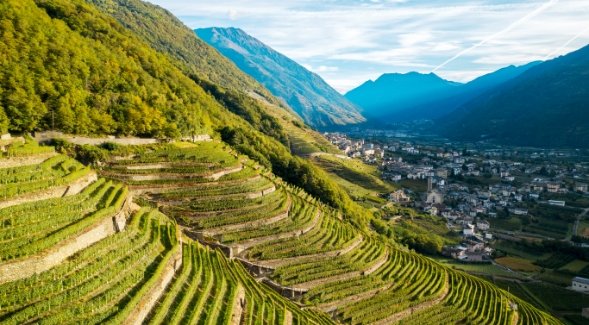 Scenario to be tested: Develop a new RESCoop on bioenergy heating.
The establishment of a Tirano renewable energy community represents an interesting case for FIPER for demonstrating how existing energy producers (district heating companies) can be connected to a bioenergy community through a shared production and consumption model. Through the project, FIPER commits itself on the one hand to study the development and implementation of a bioenergy community in Tirano and on the other to encourage the development of new biomass district heating plants through awareness-raising activities and consultation with the mayors and institutions of more than 400 potential target municipalities (not yet methanised, and with access to forestry biomass) in Italy.
In 2023, FIPER is accompanying the Mortirolo / Valtellina valley and towns of Tovo Sant'Agata, Lovero and Mazzo to ensure a sustainable forest management and installing a district heating plant to provide heat and electricity to about 2100 people and nearby factories.
What BECoop brings
BECoop can support the transposition of the REDII law at national level, the definition of a legal and regulatory framework and the implementation of a forestry strategy. Engaging citizens.
Contacts
Vanessa Gallo: vanessagallo@fiper.it
Margherita Brambilla: margheritabrambilla@fiper.it