In October 2023, the BECoop project came to a close, marking the end of a significant chapter. Although the project itself has a timeline, its mission to empower and educate various stakeholders about the potential of bioenergy communities continues, with its resources and knowledge repository remaining accessible online, ensuring that its legacy endures and continues to inspire and support interested actors.
BECoop has accumulated the valuable knowledge and evidence generated during the research and piloting activities into a comprehensive step-by-step guidebook, the BECoop Replication Handbook. In addition to the Replication Handbook, BECoop has been actively engaged in transferring its concept, tools, and services to eight follower cases across Europe. These cases were carefully selected and supported by our expert consortium partners towards the utilisation of project tools, methodologies and implementation of the BECoop Replication Handbook.
The BECoop consortium aspired to select cases with diverse replication potential, distinct needs, and varying levels of maturity. This approach aimed to showcase the project's ability to be easily replicated and ensure its widespread impact and applicability across diverse European contexts. The consortium partners chose eight follower cases from seven different countries: Spain, Italy, Greece, Poland, Bulgaria, Belgium, and Romania. This selection aimed to cover a diverse range of geographical areas and address various needs within the context of the project.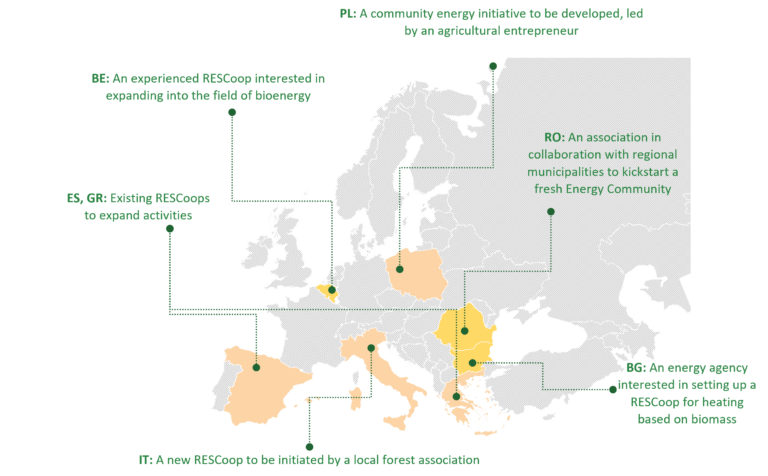 Under BECoop's guidance, these eight selected cases embarked on journeys to explore their regional potential, pinpoint local energy requirements, assess biomass resources, and determine the most fitting technologies, whether by assessing the scenario of launching bioenergy projects from scratch or enhancing existing community energy engagement. Tailored support was provided, encompassing technical aspects, business models, and community engagement, facilitated through in-depth consultations, interactive discussions, and practical examples. This personalised approach ensured that each follower case received the optimal assistance required to leverage BECoop's tools and methodologies, empowering them to surmount their individual challenges. The forthcoming section delves into the profiles of these eight remarkable cases, each a testament to the project's enduring legacy.
In Sakana, Spain, the BECoop partners supported a newly established RESCoop in developing a roadmap towards the design of a logistics and pre-treatment center for the collection, drying, chipping, and distribution of biomass from the nearby mountains to support villages in need. The primary goal of this initiative is to establish a collaborative biomass management system that benefits the participating municipalities.
In Strzeszów, Poland, an innovative initiative led by an agricultural entrepreneur was supported by BECoop to explore the establishment of a bioenergy cooperative that leverages the available resources present on a farm owned by the initiative team. The core of the initiative centres on the development of a Combined Heat and Power (CHP) district heating system.
In Macugnaga, Italy, a local forest association is in the process of creating a forest-wood energy supply chain from scratch. BECoop supported the process of exploring the revitalisation of currently underutilised forests and harnessing biomass as a fuel source for a biomass district heating plant. The envisioned strategy entails the implementation of a cogeneration system to support a micro-district heating network, specifically designed to supply heat to public buildings.
Minoan Energy Community in Greece, an already active community in the island of Crete, known for its work in photovoltaics, received support to expand its horizons into the world of bioenergy. They aim to tap into the potential of residual biomass resources, such as prunings from local olive trees, to produce biofuels. Their first project will be the installation of a 500 kW biomass boiler in a public swimming pool, which will be powered by locally harvested, chipped olive tree prunings.
Ecopower in Belgium, one of the pioneering RESCoops in the European Union, has a well-established presence in various renewable energy sources. They're now setting their sights on a comprehensive exploration of the biomass sector and the implementation of district heating solutions in several Belgian towns, with a particular focus on the northern region. The BECoop partners contributed to enhance their understanding around efficient and cost-effective production of wood chips, which will play a vital role in the district heating projects.
The Energy Agency of Plovdiv (EAP), in Bulgaria has been actively involved in renewable energy initiatives. Now, they're seeking to expand their efforts, with a strong emphasis on the biomass sector. Their goal is to set up an energy community and a biomass district heating system that will be powered by locally sourced biomass. In essence, their plan revolves around the development of local district heating systems using bio-based resources to supply renewable heat to a range of public and private buildings.
In the Borlești commune in Romania, BECoop provided support in the exploration of the potential to kickstart a fresh Energy Community, tapping into the abundant biomass resources in the area. The goals of this energy community will revolve around gathering and converting previously unused biomass residues from the region to produce and distribute heat to both municipal and residential buildings.
CommonEn, a newly established energy community in Greece, already active in solar projects, is now looking to expand into bioenergy projects, primarily focusing on heating and electricity generation. Their plans include the collection of local olive tree prunings and the development of fresh value chains in the biomass sector. BECoop supported the case in developing their bioenergy vision and roadmap.
The successful application of the Replication Handbook to eight (8) complementary cases across the EU, spanning distinct maturity stages and local conditions, involving different types of initiators (organisations, municipalities, agri-entrepreneurs, etc.,), has demonstrated the viability of the BECoop methodology and concept, and has also emphasised the practicality and real-world impact of the tools it provides. This accomplishment serves as an inspiration and a testament to the potential of bioenergy communities and their ability to address diverse energy challenges across the EU.