There is a need for unlocking and activating the underlying market potential of community bioenergy and that is exactly what BECoop aims to do, fostering a broad deployment of bioenergy heating technologies across Europe, by providing the necessary conditions and technical as well as business support tools for unlocking the underlying market potential of community bioenergy. The BECoop process is deployed to 4 complementary cases of RESCoops and authorities across Europe, as you can see in this short video introducing the pilots.
BECoop pilots are complementary and hold a high replication potential across the EU, as they touch upon the most prominent community bioenergy heating development scenarios. The cases are existing energy communities (RESCoops) that currently lack bioenergy heating (district heating, pellets stove, forest biomass), and local/national authorities aiming at initiating a new RESCoop focusing on bioenergy heating, in support of their clean energy transition goals.
One cannot miss it, the pilots are making the headlines, not only locally but internationally, as our Greek energy cooperative, ESEK, interviewed recently by a large Chinese media channel (see the CGTN video reportage here).
What happened these past months in our 4 pilots? Successes, challenges, all you need to know!
In Spain
An article in English presents how GOIENER is involved in BECoop and especially the challenges faced for exploiting the biomass resources available in the Basque Country and Navarra. Since 2020, GOIENER supports as many as 16 initiatives for the creation of energy communities and joined BECoop to be able to develop renewable thermal self-consumption solutions based on local resources such as biomass. One of the partners, Yago Goitia Casal, was interviewed by the Basque radio Ekosfera, catch up listening to "How to heat the house" here (in Basque!).
"Becoop is helping the transition to Wood Allotments version 2.0: The ancient practice of granting wood allotments sourced from common land to citizens for domestic heating, managed collectively and combined with sustainable forest management,  provides a fantastic opportunity for warming homes sustainably and economically, only using local resources." says Jaime Guerrero at CIRCE.
In Italy
A short video reportage (in Italian) presents the BECoop success in the Valtellina mountain valley in the province of Sondrio: the three mayors of the municipalities of Tovo, Lovero and Mazzo decided to switch from methanization towards a biomass district heating system.
How did this happen? Our local partner, Fiper, organised an event in June 2022 (video highlights) presenting the project and the opportunities brought by biomass district heating, especially in the Valley where woody biomass is an abundant raw material. The idea to reduce the ecological footprint and produce locally convinced the three mayors to make the move! As underlined by the Lovero mayor, a virtuous circle as forest management is needed to prevent impacts from recurring extreme weather events. Walter Righini, president of Fiper added: "We are confident also in view of the 2026 Olympics to demonstrate with concrete projects that it is possible for mountain municipalities to be autonomous from fossil sources and actively promote the circular economy, starting from the sustainable use of wood and its residues".
Earlier this summer, Fiper organised an info day during the CMA (Consorzio Monviso Agroenergia) Assembly, a full day dedicated to the future of biogas, biomethane and energy communities. A set of interviews presents national and European expectations. All agree on one thing: energy coming from renewable sources is key now and for the future.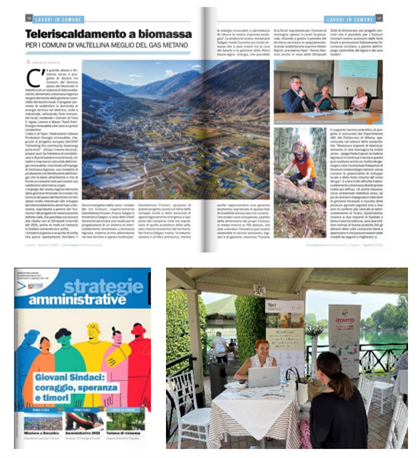 BECoop and the Italian district heating project of Mortirolo were highlighted into the magazine 'Strategie amministrative' (pages 38-39), distributed to over 1300 Local Authorities and Municipalities in Lombardia, including every town councillor or mayor in Lombardia (25.000 people!), and by the regional TV networks Tele Sondrio News (video 1, and video 2, filmed during BECoop project meeting in Tirano) and Tele Unica. Fiper is very active in presenting how forests can contribute, sustainably, to be a local source of energy.
To read about Greece, grab your espresso!
Did you know that every day, in Greece, more than 110 tons of coffee are consumed, most of it ending up in landfill? That is why Vassilis Filipou, Head of the Karditsa energy community –ESEK SYN PE, decided to change its final destination and put it to good use! We will get back to this.
ESEK aims at promoting the sustainable use of biomass with many actions, reaching all in the community: workers, children, sector professionals and many more.
In the past months, ESEK participated in two summer schools, one organized by RESCoop and the other on circular bioeconomy and sustainable development, in Thessaloniki, organised a 2-day event, "Our energy festival" (event highlights) which allowed citizens to learn about their own energy through informative and entertaining activities. The programme included visits to local biomass projects, a closed experiential workshop to assess the social impact of the NECP (national energy and climate plan), and outdoor information activities, music, and much more!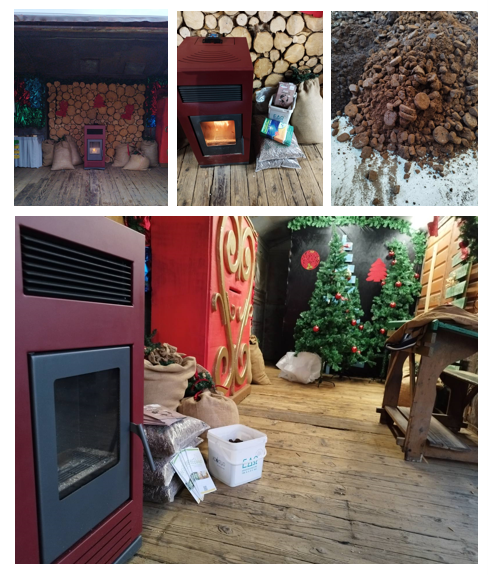 Now, back to our coffee. Coffee is an integral part of the daily life of many of our fellow citizens and its transformation into a fuel capable of meeting our thermal needs, seems completely logical as part of a circular economy (interview here). In the framework of the European project BECoop H2020 which is funded by Horizon 2020 and with the valuable contribution and cooperation of Incommon and their project Kafsimo, ESEK carried out a collection of residual coffee from the restaurants of the area and information campaigns of the local community on the utilization of the coffee residue and its conversion into energy.
The energy community of Karditsa in collaboration with the National Center for Research and Technological Development managed to process coffee residues and convert them into coffee pellets, making it an ideal fuel in biomass boilers to meet thermal needs! (See explanations and interview in Greek, from 1h20).
ESEK even contributes to the energy upgrade of schools in the area, in cooperation with local authorities and citizens: pilot installations of boilers and pellet burners were made at the Kalifoni Karditsa kindergarten, supplying pellets with raw material residues of wood and coffee, to warm it with renewable heating coming from local residues (pruning and coffee).
"European projects, like BECoop projects are becoming important tools that pilot cases can use in order to upscale their activities. This is exactly what is happening in our case and our participation in the European BECoop project. BECoop partners offered us valuable advice and all the necessary tools to expand our supply chain, by integrating new biomass flows as well as technical guidance to process and standardize the new raw materials, in order to create alternative biofuels. These new and innovative biofuels are becoming an ideal fuel for pellet boilers and stoves. In the remaining time, until the project officially ends, we aim to engage the local community and transfer the message of the circular economy through a democratized green transition", says Vasilios Filippou from ESEK.
The last action in this field happened very recently at the Christmas market of the Trikala municipality:
A pellet stove was installed in a Christmas train. The fuel is the new pellet from residual wood and residual coffee, to keep our little friends warm when they write their wishes to Santa.
All coffee houses see the coffee residues collected to produce more coffee pellets and cover the heat demands of the kindergarten and be the first <<zero coffee residues>> Christmas park. Our estimation is 1 tonne residual coffee until January 8.
A campaign to raise awareness is organized with CERTH, INCOMMON, the Hellenic biomass association, and more, to present to school groups the "coffee story" of (how the plant grows, how we make the coffee grounds and how we produce solid biofuels).
See all actions and follow these great initiatives on the ESEK channel.
In Poland
"In our region, the BECoop project is a very good opportunity to show residents that local natural resources (in this case, biomass) can not only effectively, but also ecologically heat their homes. This is very important bearing in mind that half of the households in the commune are heated directly or indirectly with coal", says Magdalena Zatońska from OBS.
Several awareness raising events have already been organised by Oborniki Śląskie, covered by local media, such as the "Oborniki Śląskie Days", the Strawberry Festival in Pęgów, Family picnics, the Bread and Herb Festival in Bagno or the Commune Harvest Festival in Siemianice.
Moreover, in November, the short video promoting BECoop was presented before the movies in the local cinema in Oborniki Śląskie.
WUELS, our Polish research partner, organised several interviews (in Polish):  see here the mayor of the Piekary village in the Oborniki Śląskie Commune, Residential Care Home in Rościsławice interviewed by Arkadiusz Dyjakon, WUELS – "Biomass for heating purposes: replacing fossil fuels into biomass pellet."
Mayors of neighbouring municipalities, local farmers, entrepreneurs, city councillors, and residents were engaged in OBS activities. Within the promoting action, the participants of the warm-up event could get for free a few bags of biomass pellets. This action aimed to convince the households.
Family picnics in Paniowice, Uraz on September, 2022

Photos from interviews, meetings with residents, testing the quality of purchased pellets